While staircases are usually not the first feature that Toronto homeowners think of when they start planning interior design, they are nevertheless a very important one. Natural wood stairs can have an important and stunning visual impact on the look of a room, and different styles of staircase will each have its own effect. Whether you are in the design planning stages for a new home or planning a remodel, Royal Oak Railing and Stair can provide your home with the ideal wood stairs and railings for your home.
Types of Wood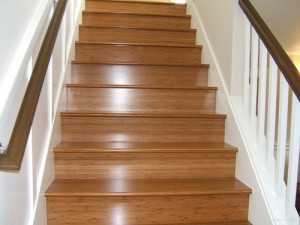 Wood staircases can be built from a number wood species including oak, maple, birch, walnut, American cherry and Brazilian cherry (jatoba) – even reclaimed pine and hemlock are available. The wide variety of woods available means a wide variety of looks and styles can also be achieved.
If you already have hardwood flooring in your home, we will be able to provide a very close match for your staircase or if you have a specific kind of wood in mind, chances are we will be able to accommodate you.
Staircase Styles
Just as the type of wood that you use will have a dramatic impact on the finished look of your staircase, so does the style or configuration. Styles range from straight to circular. In part, the style you choose will be somewhat dictated by the amount of room you have for your staircase as well as your budget. Even a basic straight staircase however can be made to look very elegant through simple design choices such as having a wider bottom step or through the design of your railings and spindles.
Other materials
All-wood staircases can add elegance, charm and style to any home but this does not mean that you can't get just as dramatic an effect by bringing other materials into the mix. Wood stairs are often paired with other materials such as metal and glass.
Wrought iron spindles and railings for example, can have a classic and traditional appearance that many homeowners understandably fall in love with.
Stainless steel and glass railings, on the other hand can look stunning and modern.
Construction and Installation
Once our designers have helped you select your ideal staircase design and materials, the experts at Royal Oak Railing and Stair will get right to work manufacturing and building your staircase. Our crew takes great pride in giving customers the staircases of their dreams. We are meticulous with every detail from the design and manufacturing right through to installation and clean-up because your satisfaction is our top priority.
Why Choose Us?
Royal Oak Railing and Stair has been leading the industry in wood stairs in Toronto for over 25 years. Not only do we provide a wide array of materials and design choices, but our customer service and expert installation is second to none. Call us today for a free quote or visit our showroom.