In many homes and businesses today more and more owners are looking to put their own stamp on the interior so their space is uniquely theirs. This can include many things, including the type of paint and wall surface used, the furniture and accessories used throughout the place and things like flooring and window treatments. Something many people have also begun to take a look at it is having a unique style where the staircase and railings are concerned. There are several things you can look for and choose from when you want to have custom railings Toronto in your home or office.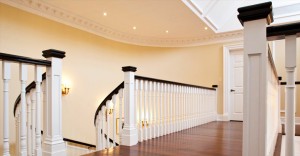 First, you will want to be sure that you select something that best fits the style of your surroundings. You want to be sure the design you choose will add a subtle hint of elegance and class to the area it is in and dominate the look of the entire room.
Iron Custom Railings Toronto
Many people have gone towards the use of iron in their railings in their homes and offices. They have been very popular for a long time and add a very specialized look to your place. Very often, there are both standard designs in iron that you can choose from or many companies will create a completely custom and unique design for you, allowing you to have as ornate an area as you would like.
A positive in the use of iron for your railings is that they will last virtually a lifetime with little or no maintenance required. The wrought iron used is built to last a long time, so you can be sure that you are going to get your money's worth from the design. This is an added benefit of choosing this style.
In the past, many had thought wrought iron would be too expensive to use. This is no longer true. Using wrought iron for railings has become quite affordable, even if you are choosing a custom design and custom components.
Wood Custom Railings Toronto
Of course, a traditional wood railing on a staircase adds class and elegance. The nice thing about choosing to go with a wood design is that you have a wide variety of woods to choose to use. There are many hardwoods that look great and fit nearly any décor, such as cherry, oak or maple.
You can also let your imagination go and do many different things with wood. You can choose various designs for your posts, railings, balusters and handrails, staying as basic or as ornate as you wish. Many designers will help you customize the look to just how you want it.
When you decide to do something new with your old staircase, you may want to think about custom railings Toronto. A customized job can give you a look no one else may have, making your spot very unique. Your home or office can easily stand out from others just in the designs that you opt for.