How Does Wood Behave When Exposed to Water?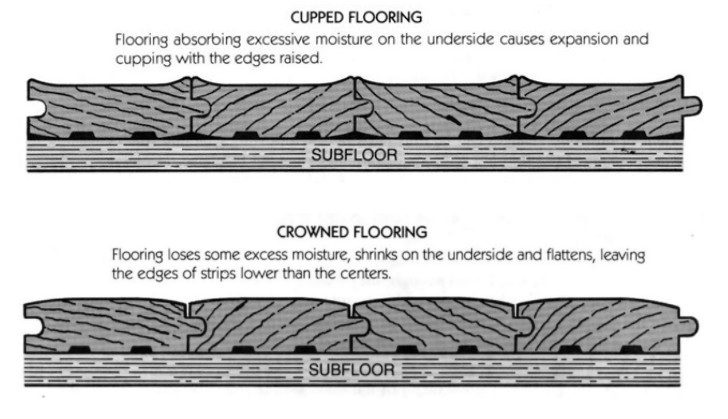 "Most complaints concerning hardwood are related to changes in the moisture content of flooring and surrounding wood products. Other problems may also be associated with the hardwood, however, the following information relates to the effects of moisture.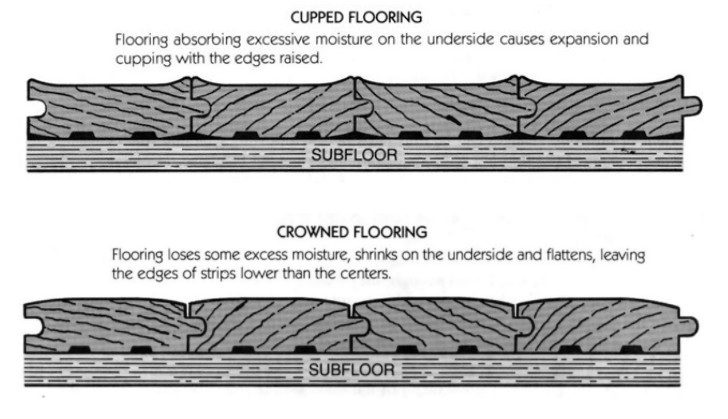 When moisture changes are severe, the result can be Cracks, Movement, Cupping and /or Buckling of the hardwood.  A combination of these results could be present in the same floor. Knowledge of the expected moisture content of wood in a particular area and the additional factors which contribute to the changing moisture content of wood is necessary to assure the proper performance. 
Not only do our seasonal conditions effect the changes in wood but more importantly your interior environmental controls which continually provide stable temperature and relative humidity has more of an effect. Please note that this is the responsibility of the customer to ensure adequate humidity levels are used within the home or it will void the warranty.  
WOOD is a hygroscopic material. When exposed to air it will dry or pick up moisture until it is in equilibrium with the humidity and temperature of the air.  
MOISTURE ABSORPTION causes wood to swell. (cupped effect) 
MOISTURE LOSS causes wood to shrink (crown effect/cracking).
SHRINKAGE begins at 25-30% moisture content, the fiber saturation point. Shrinkage continues to 0% moisture content, an oven dry state. 
SWELLING occurs as wood gains moisture. Swelling occurs from 0% to 25%/30% moisture content, the fiber saturation point. 
WOOD does not shrink or swell equally in all directions." 
*reference NOFMA*